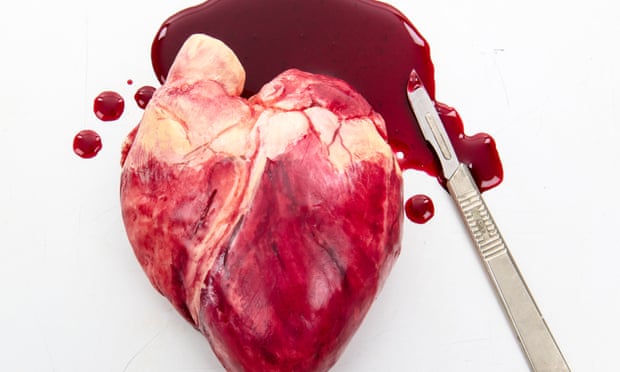 Illusion cakes – cakes that look like something they are not – must have seemed the perfect trick to divert the eye from The Great British Bake Off's own recasting. (Was it really Bake Off?) Illusion is a burgeoning area of baking, although its practitioners prefer to think of their creations as "hyperrealistic" and themselves as cake artists.
Emma Thomas, a "curator of cake" (she is "employed to bring together cakes as you would do art for an art show"), says hyperrealism is a reaction to the tweeness of the sugarcraft movement. You know the kind of thing: cute puppies and friendly mice and sprays of roses. Hyperrealist cake artists don't do friendly mice. They are more likely, in a nod to early hyperrealist cake artist Debbie Goard, to do dead rats.
After cupcakes, popularised in the late 1990s by the Magnolia Bakery in New York, went mainstream, "People began to get bored of cake," says Thomas. So cakes burst out of their frilly mini-cases and went sculptural.
Most cake artists did not start out as bakers. Sarah Hardy studied as an artist before training in wax figures at Madame Tussauds. She became a hyperrealist pioneer five years ago when she submitted a cake to a show at Olympia in London. The theme was the seaside. "Everyone had done beach huts. What I did was to think as a sculptor and translate it to food. I did a rockpool with seaweed and mussels and barnacles. It was the ugliest cake there." But it caught the judges' eyes and she began to receive commissions, including one for a "half-zombie, half-human" cake for Georgia May Jagger's birthday.
A few months later, in early 2013, Natalie Sideserf entered a lifelike cake model of Willie Nelson's head in a baking competition in Texas. She won, and the Sideserf Cake Studio was born. Sideserf studied fine art at Ohio State University, and Thomas says her work is now "the epicentre of hyperrealist cake art". She achieved notoriety with her own wedding cake: a plate decorated with the words "Till death do us part", on which rolled the severed heads of her and her husband.
There is a dark seam to hyperrealist cake art – perhaps because the artists know that, sooner or later, their cakes must go to the knife. The endgame is built into the art's conception. Hardy says: "There's a tension there when you create something that's very realistic. People don't want to ruin it, they don't want to cut it." Hardy's cakes start at about £500 and take up to two weeks to build, including the planning and armature. "You have to really enjoy and celebrate that brief time that [the art] is there for. With the gory stuff, people tell you they couldn't eat it. But once they are in the room, they are compelled to try. It gives that extra element of looking disgusting and tasting amazing."
These cakes make horror palatable. Where will you put the knife? The sculpture changes shape as it is consumed. Its demolition is its fruition.
Thomas once served a head cake. "I cut across her mouth and then down the middle of her face." People were aghast. "I was like, 'It's lemon drizzle! It's cake. Just eat it!'" But some people can't. Cake artist Natasha Collins made a cake disguised as half-eaten trifle studded with cigarette butts at a party for Kerrang! magazine in 2011 but when they were "handed out to hardened rockers, no one would touch them". She keeps her hyperrealist creations off her website in case it puts the brides off.
The Bake Off bakers steered clear of horror, focusing instead on disguising cake as other foods – a sandwich, a bowl of ramen, a loaf of bread. These nod to the fast-food subset of hyperrealism, in which highly calorific foods are disguised as other highly calorific food. Ben Churchill, a rarity in the hyperrealist cake world in that he is a chef in his day job, specialises in breakfast-themed cakes – baked beans made of marzipan and covered in orange syrup, presented on toast that is a slice of lemon cake. He prefers congruity to surprise, so his realist lemons are made from lemon bavarois.
Other essential ingredients for the fast-food hyperrealist are rice crispies (great for sesame seeds on buns, says amateur hyperrealist Katherine Solomon), marzipan (great for skin) and cornflakes (texture of fried chicken). But all you really need, says Hardy, is "a pile of chocolate, fondant and some really nice cake. It's the food equivalent of clay and wood."